Southern Cuisine in Steinhatchee, FL
For Assistance during open hours, Please Call
We are located in Steinhatchee, FL. Serving Southern Cuisine see our menu | homemade breakfast, lunch & hot donuts,  Served at the base of the Steinhatchee River Bridge.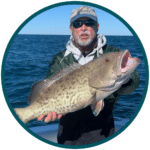 Welcome! I hope your visit in Steinhatchee, FL is a wonderful.
While you are here, please stop on in. I want our southern cuisine to be your go-to breakfast place in Steinhatchee for a great start to a day of fishing, scalloping, or just on the river. 
– Capt. Richard McDavid's (Meet the Captain)
"Clean and neat little place with the best breakfast! Eggs over medium (really) with just right bacon, toast and home fires with coffee."
Bobandmartha2, TripAdvisor member
Branford, Florida
"Recommend to us by a local so we stopped in for lunch, first time visiting.
Very impressed."
BruceH15, TripAdvisor Member
Keystone Heights, Florida
"We loved our dining experience. The food was fantastic. The owners were personable and chatted with us as old friends!"
JerrieDee H., Facebook
Milton, Florida
"We stopped to grab some breakfast before going out on the boat food was great highly recommend the capt. richies special service was fast great and super friendly. Even if you're full grab some hot donuts togo they are amazingly good"
Roy S., Facebook
Jacksonville, Florida
"THE DONUTS!!!! ...Yes please. Donuts were warm and delicious and I was tempted to eat them all."
Angela N., Yelp!
Jacksonville, FL
This place certainly has character! We had bacon egg and cheese biscuits, which my kids stated were the best biscuits that ever eaten and donuts that tasted like the ones we used to make when I was a kid. Great breakfast spot as you are headed out on the river!
Julie B., Yelp!
Gulf Breeze, FL
First time visit in Steinhatchee, and we thoroughly enjoyed every min of it! Best food, AWESOME waitress! AAAA++++++
Daniel & Melissa
Family Roadtrip
Awesome food, friendly staff and great service! Love the homey atmosphere!
Ate there 4 days in a row!
Lyn B., YELP!
Panama City, Florida
We grow more with your cheers,
let us know what you liked!
Please take a quick moment and tell us what you enjoyed most, we want to spread the word and appreciate your help.
Come Back and see you in Steinhatchee soon!